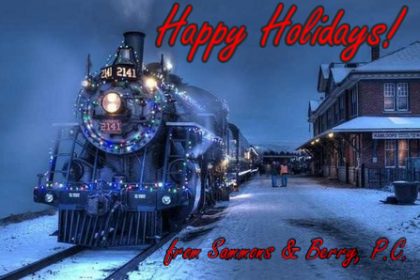 Every year around the holidays, those of us at Sammons & Berry, P.C., pause to offer thanks to you – the Client – without whom our business could not exist. We fully recognize that we are working for you and appreciate the trust and confidence you have placed in our firm by allowing us to represent you.
We know results matter, but just as important is our dedication and commitment to you – the Client. As a law firm that receives most of its cases through word of mouth from current and former clients, we regard your continued faith and support in our firm through the referral of friends and co-workers as the highest compliment we can receive.
We take great pride in our work, and hope our dedication and commitment is reflected in the continued satisfaction of our clients.
On behalf of our firm we would like to take this opportunity to say THANK YOU and wish each of you HAPPY HOLIDAYS!